In my 15-year teaching career, I and my students have won numerous national and international awards. One of the missing pieces in my career was the Global Teacher Prize, which is recognized as an education nobel. I am proud to be one of the top 50 teachers in the Global Teacher Prize in 2021.
I would like to thank everyone who supported me after I was selected in the top 50. The awards are motivating and I will continue to work with my students that make a difference. Congratulations to all my colleagues who made it to the finals from different parts of the world.
15 yıllık öğretmenlik kariyerimde öğrencilerimle birlikte sayısız ulusal ve uluslararası ödül kazandık. Kariyerimde eksik olan parçalardan biri eğitim nobeli olarak gösterilen Global Teacher Prize'dı. 2021 yılında Global Teacher Prize'da top 50 yapan öğretmenlerden biri olma gururunu yaşıyorum.
İlk 50 seçilmem sonrası bana destek veren herkese çok teşekkür ederim. Ödüller motivasyon verici ve ben öğrencilerimle yaptığım fark yaratan çalışmalara devam edeceğim. Dünyanın farklı yerlerinden finale kalan tüm meslektaşlarımı tebrik ederim.
Congratulations! Selçuk Yusuf Arslan from Ankara in Turkey is a top 50 finalist for the Global Teacher Prize 2021. He teaches coding and real-life problem solving to students from some of the toughest and most deprived parts of the city. #Teachersmatter #GlobalTeacherPrize pic.twitter.com/CBSD2Kpxa8

— Global Teacher Prize (@TeacherPrize) September 13, 2021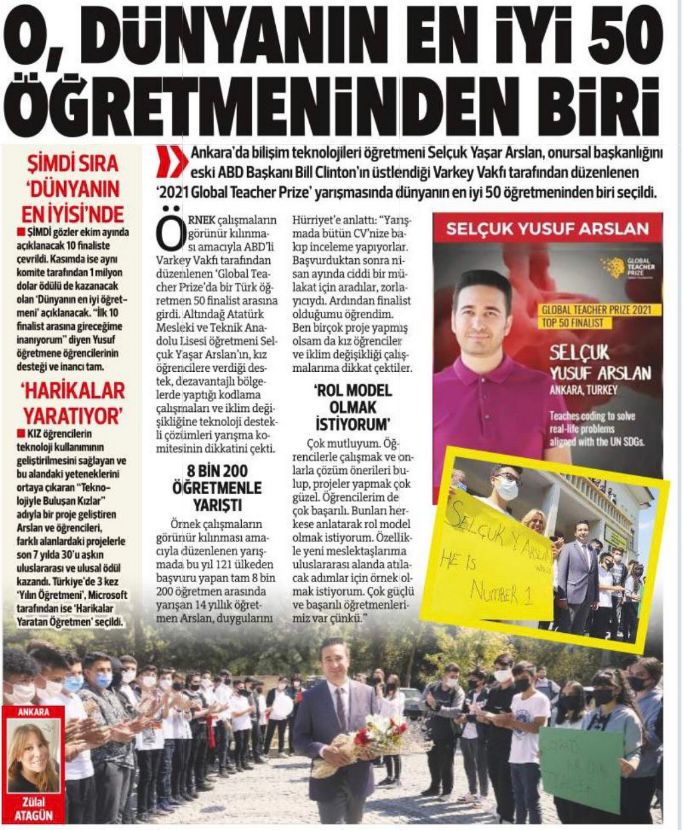 https://twitter.com/CizreMem/status/1443590768879304717?s=20
https://twitter.com/SIRNAKMEM73/status/1442945219184381954?s=20
https://twitter.com/ScienceonStage/status/1437678069746126848?s=20
DÜNYANIN EN İYİ ELLİSİNDEN BİRİ ANKARA'DA

Altındağ Atatürk MTAL Bil.Tek. Öğretmeni @selcukyarslan, eğitim nobeli Global Teacher Prize'da dünyanın en iyi 50 öğretmeninden biri seçilmiştir. Öğretmenimizi tebrik eder, başarılarının devamını dileriz.@tcmeb @Harunfatsa @TeacherPrize pic.twitter.com/gjwX6CVtRB

— Ankara İl Millî Eğitim Müdürlüğü (@MemAnkara) September 13, 2021
İlçemiz Atatürk MTAL Öğretmeni @selcukyarslan Eğitim Nobeli @TeacherPrize Yarışmasında İlk 50'ye Kalma Başarısı Göstermiştir..

Öğretmenimizi Tebrik Ediyor, Ödüle Giden Yolda Başarılar Diliyorum..

Selçuk Öğretmenimizi Can-ı Gönülden Destekliyoruz..#Altındağ pic.twitter.com/qY6ZigEXYl

— Cumali Atilla (@cumaliatilla21) September 13, 2021
https://twitter.com/fizikist/status/1437390993649717251?s=20
https://twitter.com/KahootAcademy/status/1436405308465684481?s=20
https://twitter.com/scientix_eu/status/1436310684506202114?s=20
https://twitter.com/wakelet/status/1436655793655455747?s=20
https://twitter.com/microbit_edu/status/1436295090931126274?s=20